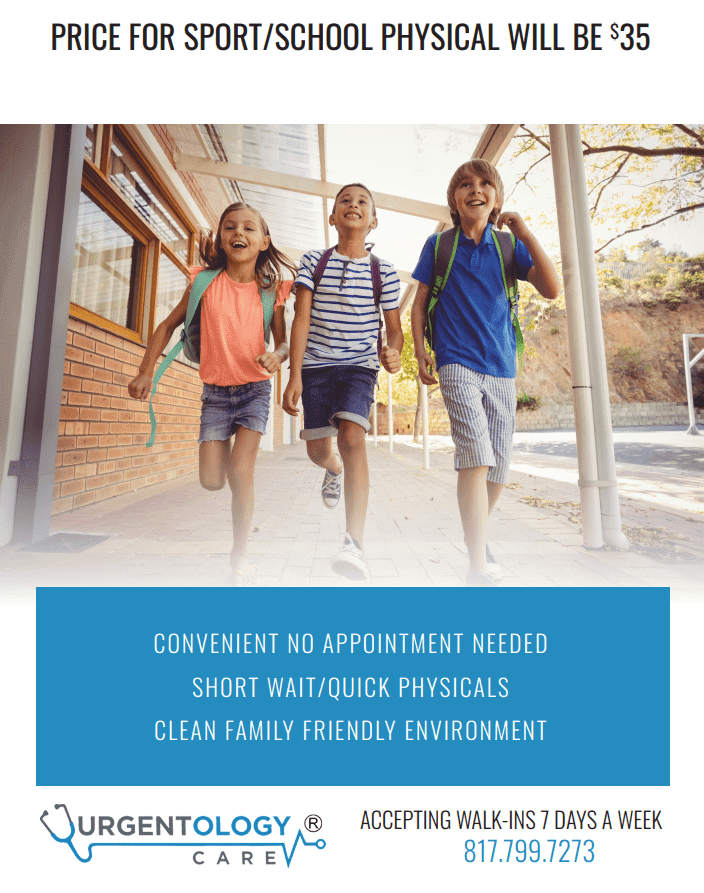 Back-to-School & Sports Physicals in Arlington
Offering the Special, Low Rate of Only $35
As a busy parent, there are plenty of things to finish on your "to do" checklist before your child goes back to school. Although you may think it's something that can wait, a back-to-school or sports physical is an important way to ensure your child is healthy and developing well.
At Urgentology Care, we accept walk-ins every day of the week, so there's no hassle of waiting to book an appointment. Not only do we offer convenient hours, short wait times, and a clean, family-friendly environment, we also have a special, low rate for back-to-school and sports physicals now through the end of August.
Does My Child Need a Back-to-School Physical?
While some schools require annual physicals, especially for student athletes, it's a good idea to bring your child in for a checkup even if it's not mandatory to do so.
Some reasons a yearly physical is important for children:
To check on the child's development: If your child should have any physical or psychological problems, these can be uncovered during an exam. Catching problems quickly gives your child the best chance at early medical intervention.
To build their medical history: Seeking regular medical checkups is invaluable, as having a long-term medical history can help a doctor better understand the child's development over the years. It can also help your child's doctor catch any emerging problems.
Urgentology Care is happy to provide $35 back-to-school and sports physicals now through the end of August. You can contact us at (817) 799-7273. We accept walk-ins 7 days a week!